Caregiver of The Month: Jacqueline B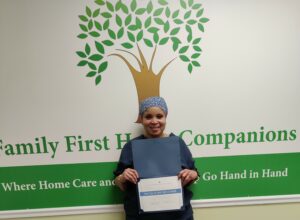 Caregiver of the Month: February
Home Care Services, Huntington, NY
We are so excited to announce Jacqueline B as our caregiver of the month.  Jacqueline was selected to be the Caregiver of the Month for February 2022 at Family First Home Companions in Islandia, NY.  Jacqueline's dedication to her clients, perfect attendance record, willingness to help by substituting on open shifts, and excellent care services earned her this award and recognition.
Jacqueline has been a caregiver with Family First Home Companions since the Fall of 2021 and came to Family First with ten years of experience working in the Northwell Health System.   She brings a wealth of knowledge and experience including helping patients with a variety of medical conditions and ailments, dementia care, and providing professional, compassionate care.  Jacqueline's clients have gone out of their way to call the office at Family First to compliment her on her excellent care and work performance.
Jacqueline has been an excellent member of the team at Family First.   She has made herself available on several occasions to help fill-in when other caregivers were out and is very flexible with her schedule.  She is someone who can be relied upon and is very versatile in her skills.
We are so proud to have Jaqueline on our team at Family First and look forward to a successful future with her.  Thank you, Jacqueline, for all you do!
Latest posts by Jennifer Benjamin
(see all)