Looking for Alzheimer's Care at Home? Fill Out This Form To Talk to Our Friendly Staff.
Get Started
get help with info & pricing
Looking for a Job?
Use Our Careers Page for Questions & Info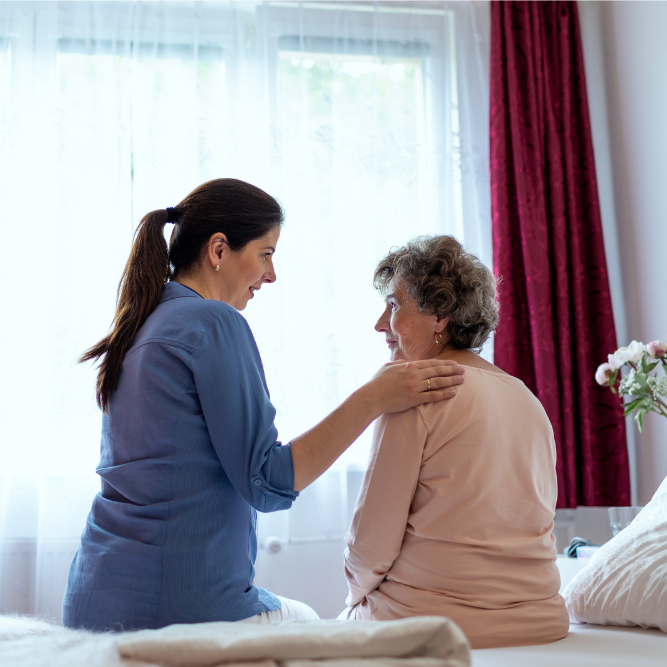 Our professional, trained caregivers can provide supervision for safety, cognitive stimulation for well-being, and guidance with the activities of daily living to support your loved one through the disorienting symptoms of dementia.
Medication reminders
Bathing reminders, bathing supervision, and verbal prompting
Dressing assistance and supervision
Meal planning and preparation
Transportation
Household chores
Mail organization
Cognitive stimulation – each caregiver is provided an activities guide filled with brain games and exercises for those afflicted with cognitive impairments (i.e. completing the saying, guessing the name of the famous person, listing the 50 states of the U.S.A., etc.).
Physical exercise (i.e. taking walks, stretching, physical therapy exercises, etc.).
When you have a loved one with Alzheimer's or another form of dementia, it may feel impossible to decide:
Should I care for my loved one with Alzheimer's myself?

Should I get some help with Alzheimer's care at home?

Should I take my loved one with dementia to a nursing home or assisted living facility?
Here's what you need to know about Alzheimer's care at home to help you decide whether that's a good option for you and your loved one.
Can a Person with Alzheimer's or Dementia Live at Home?
Yes. With the right supportive care, many people with Alzheimer's and other forms of dementia can age in place and live at home. According to the Alzheimer's Association [1]:
"Many people with Alzheimer's continue to live successfully on their own during the early stage of the disease…[You should] arrange for someone to help you with housekeeping, meals, transportation, and daily chores."
What Is Alzheimer's / Dementia Care at Home?
Alzheimer's & Dementia care at home is a collection of services that help people with dementia, Alzheimer's, and other forms of cognitive decline age in place rather than going to an assisted living facility or nursing home. Home care for dementia patients may include anything from companionship to housekeeping to assistance with activities of daily living all the way to skilled nursing and around-the-clock care.
What Types of Services Are Included with Alzheimer's Care at Home?
Dementia Care at home may include:
Wandering prevention

Medication reminders

Light housekeeping

Managing moments of confusion, anger, or anxiety

Meal planning and preparation

Transportation to appointments

Assistance with dressing and grooming

Help with toileting and bathing

Transfer and mobility assistance

Grocery shopping and picking up prescriptions

Companionship and monitoring
While your primary concern might be preventing your loved one from wandering away when you aren't with them, companionship is also extremely important for older adults. According to the Centers for Disease Control and Prevention [2]:
"Social isolation significantly increased a person's risk of premature death from all causes, a risk that may rival those of smoking, obesity, and physical inactivity...Poor social relationships…[were] associated with a 29% increased risk of heart disease and a 32% increased risk of stroke...Loneliness was associated with higher rates of depression, anxiety, and suicide."
How Do You Care for an Alzheimer's Patient at Home?
Caring for a person with dementia at home involves preventing the patient from wandering off, ensuring their basic needs are taken care of, helping them with activities of daily living, making sure they take medication and get to doctor appointments on time, and overall ensuring the patient has a high quality of life while staying in a familiar home for as long as possible.
How Long Can a Person with Alzheimer's Disease Live at Home?
With the right type and amount of care, a person with Alzheimer's may be able to live the rest of their lives at home. Alzheimer's care at home can grow to accommodate a dementia patient's changing needs, up to and including around-the-clock care.
-It's natural to want to care for your loved one all by yourself, but it is physically and emotionally demanding - it's OK to ask for help.
How Do I Know if My Loved One Needs Dementia Care at Home?
Many signs may indicate when your loved one needs Alzheimer's care at home. If you have noticed or experienced any of the following, your loved one may need more care than you can provide.
They Can't Complete Tasks of Daily Living
If your loved one isn't taking care of themselves as well as they used to, they may need memory care at home. Look for signs like:
Body odor

A dramatic change in grooming habits

Incontinence, frequent trips to the bathroom, or failing to go to the bathroom at all

Unexplained weight loss

Foul-smelling home

Very bad breath or dental problems

Appearing overwhelmed by daily activities
They Start Making Dangerous Decisions
Alzheimer's and other types of dementia take away a person's critical thinking skills, putting them at risk of being taken advantage of, injuring themselves, wandering away from home, or even accidental death. Warning signs include:
Bad short-term memory

such as forgetting to turn off the stove or lock the doors.

Frequent wandering

, being confused about where they are, or failing to answer the phone.

Poor judgment

such as allowing strangers into their home or giving away all their money.

Not understanding how household objects work

, like what to do if the smoke detector goes off or how to call for help.

Dangerous driving

, even after they've been told to stop driving.

Unusual or dangerous behavior

like shoplifting or engaging is sexually inappropraite behavior.
You Are Experiencing Caregiver Burnout
It's natural to want to care for your loved one all by yourself, but it is physically and emotionally demanding. If you're experiencing burnout, you can't care for your loved one as well. You may also feel guilty for being burned out, leading to more burnout. It's OK to ask for help caring for your loved one.
Their Health Is Declining
If your loved one isn't caring for themselves the way they used to, they may show signs like:
Unexplained weight loss

Taking too much or too little of their medications

Inexplicable bruises, breaks, or other injuries

Lack of food in the kitchen

Sunken or hunched posture

Neglected personal hygiene
Your Instincts Say They Need it
Trust your gut. If you think your loved one needs Alzheimer's care at home, they probably do. Plus, it's better for your loved one with dementia to have too much help rather than not enough.
What Should I Look for When Hiring a Home Care Agency for Alzheimer's or Dementia Care at Home?
With their oversight, insurance, and varied staff to have a backup in case of emergencies, home care agencies are often the best place to get Alzheimer's care at home. Here are some questions to ask as you look at different options [3]:
Do you do thorough background checks?

What is the turnover rate for your caregivers?

Can we interview potential caregivers?

Are your caregivers screened for contagious diseases?

Will we have the same caregiver for each visit?

How does the agency handle conflict, such as if I have a complaint about a caregiver?

Can I have references for your agency and the caregiver we get?

How do you supervise caregivers?
References
If You Live Alone, Alzheimer's Association, https://www.alz.org/help-support/i-have-alz/know-what-to-expect/if_you_live_alone
Loneliness and Social Isolation Linked to Serious Health Conditions, Centers for Disease Control and Prevention, https://www.cdc.gov/aging/publications/features/lonely-older-adults.html
Help With in-Home Care for Someone With Alzheimer's, WebMD, https://www.webmd.com/alzheimers/alzheimers-paid-home-care
We absolutely could not be happier with Tina; she is a true blessing in our lives.
- Caren N.
I was extremely satisfied with your services. Patrice and Odette were very conscientious and made both my wife and mother-in-law very comfortable in their final days, and I would unhesitatingly recommend your services to anyone who is in need of a home health aide.
- Phil L.
We have really appreciated all the care that Danielle has provided for my mother and will truly miss her.
Thank you so much
- Melinda G.
We LOVE the expert care Mom is receiving from Vicky and Jackie! It is becoming a really well working team for her care. Each member brings a wonderful wealth of knowledge, experience, insight and patience. We appreciate it on behalf of Mom.
Thank you!
- Ann Marie L.
Meal preparation
Grocery shopping
Transportation to doctor appointments, incidental trips, etc.
Medication reminders
Laundry
Pet assistance
Bathing supervision
Dressing assistance
Recreational activities
One-on-one assistance at a facility, hospital, or assisted living
Fall prevention
Sorting mail
Organizing
Taking walks
Family First Home Companions is a Long Island home care company.  We provide senior companions to assist your loved ones with daily activities, dementia care and Alzheimer's companions, and respite care to care for your loved ones on a short term basis. 
We serve the following States, Cities, Zip Codes and Counties: 
Long Island, Nassau County, Suffolk County, New York City (NYC), Queens, Manhattan, Brooklyn, Bronx, Staten Island