Looking for Overnight Care at Home? Fill Out This Form To Talk to Our Friendly Staff.
Get Started
get help with info & pricing
Looking for a Job?
Use Our Careers Page for Questions & Info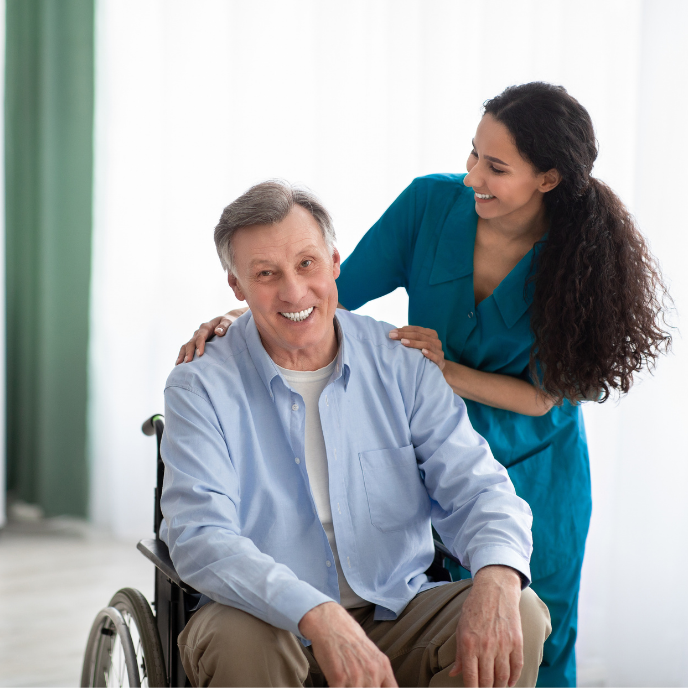 A companion is a professional, non-medical caregiver that provides assistance to seniors or disabled adults at home.  Companions can help with daily living activities such as, cooking, running errands, and household chores.
Hourly Weekday and Weekend Visits
Customize the services to fit your needs with an hourly visit schedule.  We require a minimum of 5 hours per visit and15 hours per week and provide up to 24/7 live-in care.  Hourly services allow you to schedule the visits around the times when your loved one needs the help the most while maintaining his or her independence at home.
Overnight Visits
Overnight visits entail having a caregiver stay at night for a twelve hour visit.  For example, seven o'clock in the evening to seven o'clock in the morning.  The overnight caregiver will monitor and attend to your loved one at night with getting settled in for bed, trips to the bathroom, or safety monitoring for falls.
24/7 Live-in Care
24/7 live-in caregivers stay in the home 24 hours a day and provide assistance with all daily living activities.  In a seven day live-in situation, two to three professional caregivers share the week and provide relief to each other on a regular schedule.  Live-in caregivers share in the household food and typically are provided separate sleeping quarters.  Live-in care is ideal for the person who is at risk for falls in the home, has a cognitive impairment, or is recovering from a hospitalization.
Overnight care is invaluable to seniors, as well as their families when extra care is needed. While lots of seniors experience a better quality of life with help with the activities of daily living, such as bathing, meal preparation, grocery shopping, and dressing, more help is eventually required for those dealing with Alzheimer's and dementia illnesses, as well as other types of mental deterioration.
What Does Overnight Home Care Include?
The compassionate care provided by an overnight caregiver includes a wide variety of services frequently needed at night.
Examples of care include:
help to utilize the bathroom in the middle of the night,

giving water to drink and also snacks in the evening,

and also assisting with getting ready for bed.
Elderly loved ones might receive help with walking and transferring from bed to chair throughout the night. Many seniors find nighttime assistance to be valuable when it comes to activities like helping with commode positioning or making sure water is close by.
Caregivers prepare early morning breakfast as well as helping with morning care, such as bathing, dressing, feeding, and grooming.
Benefits of Overnight Home Care
Overnight care is ideal for seniors who have difficulty resting in the evening or who have a tendency to wander, as a result of Alzheimer's or dementia.
Family caregivers who battle with nighttime sleep disruptions get peace of mind in knowing an overnight caregiver is in the home. The presence of an overnight caregiver also alleviates the anxiousness & disorientation that arises from broken sleep patterns.
The advantages of hiring an overnight caregiver are numerous. As a family member, you are able to relax knowing that a qualified caregiver is supplying continuous supervision and care to your loved one.
Continuous Nighttime Supervision.

The risk of wandering is common in seniors with dementia-related problems, like Alzheimer's disease. Dementia often disrupts sleep and also can cause seniors to wander at night.
Falls are a big risk when walking around in a dark room. Not only is injury possible, but the senior may also wander away from the house and become disoriented outside of the home.
A competent overnight caregiver is instrumental in maintaining senior safety throughout the night.
Anxiety. As seniors age, anxiety, and depression may emerge. A thoughtful overnight caregiver offers the needed emotional support... and also friendship, to prevent a senior from feeling lonely or sad.
Unpredictable Behavior. Dementia affects seniors in a myriad of ways. When leaving a senior with dementia in the house alone at night is no longer possible, an overnight carer lessens the chances of the senior getting hurt or disoriented.
Mobility Assistance. When the senior needs to use the bathroom at night, an experienced overnight caregiver has the ability to assist. 
Medication Schedules. Failing to remember to take medications can be common for seniors with memory challenges. Particular drugs, like anti-seizure medications or high blood pressure medication, should be taken routinely to avoid illness. A qualified overnight caregiver can remind senior clients to take their medications at bedtime.
Forgetfulness. Overnight care can be useful for people who become progressively forgetful. Leaving the oven on or doors open are typical issues among the elderly whose memory is declining. A mindful caregiver will make sure the home is safe.
We absolutely could not be happier with Tina; she is a true blessing in our lives.
- Caren N.
I was extremely satisfied with your services. Patrice and Odette were very conscientious and made both my wife and mother-in-law very comfortable in their final days, and I would unhesitatingly recommend your services to anyone who is in need of a home health aide.
- Phil L.
We have really appreciated all the care that Danielle has provided for my mother and will truly miss her.
Thank you so much
- Melinda G.
We LOVE the expert care Mom is receiving from Vicky and Jackie! It is becoming a really well working team for her care. Each member brings a wonderful wealth of knowledge, experience, insight and patience. We appreciate it on behalf of Mom.
Thank you!
- Ann Marie L.
Meal preparation
Grocery shopping
Transportation to doctor appointments, incidental trips, etc.
Medication reminders
Laundry
Pet assistance
Bathing supervision
Dressing assistance
Recreational activities
One-on-one assistance at a facility, hospital, or assisted living
Fall prevention
Sorting mail
Organizing
Taking walks
Family First Home Companions is a Long Island home care company.  We provide senior companions to assist your loved ones with daily activities, dementia care and Alzheimer's companions, and respite care to care for your loved ones on a short term basis. 
We serve the following States, Cities, Zip Codes and Counties: 
Long Island, Nassau County, Suffolk County, New York City (NYC), Queens, Manhattan, Brooklyn, Bronx, Staten Island