Preventing Colds and Flu in Springtime
Home Care in Islip NY
Most caregivers commonly think of winter as the time to be extra-vigilant about protecting their loved ones from cold and flu viruses.  While flu season does usually peak between December and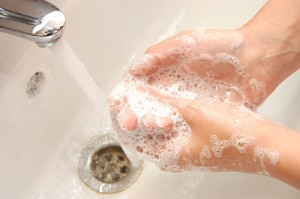 February, flu viruses can linger on well into the Spring months of April and May.  For this reason, it is important to continue to take the steps to help your loved one to avoid a cold or flu infection.  Elderly adults have weakened immune systems that can put them at a higher risk for catching these viruses and for developing more serious complications from them.  To help protect your elderly loved one from cold and flu viruses this spring, remember to follow these simple tips:
Wash Hands
Encourage your loved ones to wash their hands several times throughout the day, especially before and after cooking/eating, after using the bathroom, and after visiting public places such as stores, libraries, or gyms.  If you will be with your loved one, it is important that you wash your hands regularly as well.  Proper hand washing requires the use of warm water and soap and it is recommended that you wash for at least 20 seconds.  If soap and water is not available, hand sanitizer gels can be used to kill the germs on hands.
Boost Immunity
Vitamin C is the vitamin that is famous for strengthening the immune system.  While elderly adults can get vitamin C from supplements, there are also many very healthy foods that have a high vitamin C content.  In fact, oranges aren't the only great source of vitamin C.  Red bell pepper, kiwi, strawberries, and cantaloupe are all excellent sources of this immunity-boosting vitamin.
Keep the Home Clean
Bacteria and viruses can live on surfaces that you and your loved one touch frequently such as door knobs, the computer keyboard, smartphones, and the remote control.  For this reason, make an effort to wipe these surfaces clean as frequently as possible using an anti-bacterial wipe when you can.
Avoid Others Who Are Sick
If the grandchildren have the sniffles, it is probably best to postpone their visit.  Elderly adults should steer clear of others who could possibly pass on a cold or flu virus to them.  However, if a visit can't be avoided, frequent hand-washing can keep germs at bay!
If you or an aging loved one are considering home care in Islip, NY, please contact the caring staff at Family First Home Companions. Serving all of Long Island. Call today: (631) 319-3961
Source: http://www.cdc.gov/flu/about/season/flu-season.htm
Latest posts by Jennifer Benjamin
(see all)