Tips for Caring for an Elderly Adult After a Broken Hip
Senior Care in Garden City NY
The Centers for Disease Control and Prevention estimate that 300,000 adults over the age of 64 throughout the United States have to be hospitalized due to a hip fracture each year. This can be an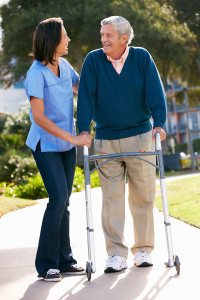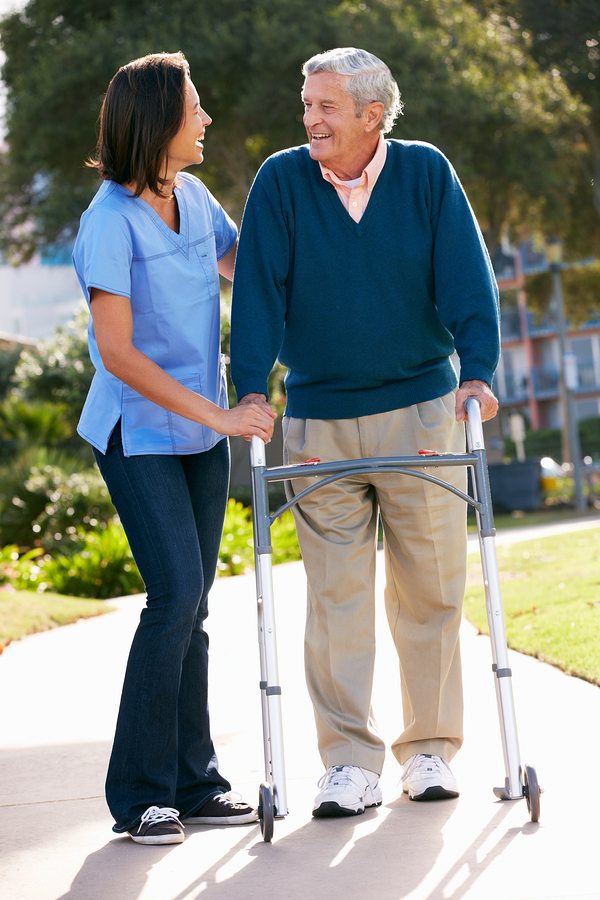 extremely painful and devastating injury for your elderly adult, leading to a wide variety of potentially serious consequences including loss of mobility, increased risk for health complications such as blood clots and pneumonia, and diminished quality of life. As a family caregiver it is your responsibility to help them get through their recovery in the most effective way possible. The care that you and the rest of your parent's care team gives will be instrumental to your parent's ability to recover from the injury and return to a quality of life that they deserve as they age in place.
Use these tips to help you care for your elderly adult after they suffer a broken hip:
Modify their home. Elderly adults who have suffered a broken hip will have a more difficult time navigating their home. They will also be at increased risk for another fall or accident, which can result in further complications. After your parent suffers a broken hip, go through their home to identify areas that might be hazardous for your parent and make meaningful modifications to make it safer, easier, and more comfortable for your parent.
Encourage rest. The body needs rest to heal properly. Encourage your parent not to overdo it as they are working toward returning to their normal lifestyle. This might mean rearranging their home so that their bed is downstairs to eliminate the need to climb stairs, handling home tasks for them to allow them to rest, and reminding them to take their time if they are particularly active.
Encourage activity. While your parent will need rest as they work toward recovery, they will also need to exercise the hip to ensure that it heals properly and can regain strength. Talk to their doctor about how much exercise they need and the safe ways for them to get it so that you can guide them in following these recommendations.
Offer support. Be aware that while your parent will go through a variety of physical challenges while recovery from their hip fracture, they might experience emotional difficulties as well. Be there for them and offer the support that they need to stay focused on their recovery and motivated to keep moving forward.
If your aging parent has suffered a hip fracture, now is the ideal time for you to consider starting elder care for them. A hip fracture can be an extremely dangerous situation for your senior, and the highly personalized services of a senior home care services provider can ensure that they get the care, support, and encouragement that they need to get through their recovery effectively. This care provider will evaluate your loved one's needs and help them to address these challenges and limitations while also encouraging them to continuing living a lifestyle that is enjoyable, active, and fulfilling. This can help to minimize the dangers that your parent faces during this recovery and after as they work toward resuming their normal life. When it comes to caring for an elderly adult through their recovery after a hip fracture, this care provider can be a valuable support both physically and emotionally. Some ways that they can help include assistance with tasks around the home so that your parent can rest, companionship and emotional support to help them deal with the effects of the injury, and reminders to encourage medication and treatment compliance for maximum benefit.
If you or an aging loved one are considering senior care in Garden City, NY, please contact the caring staff at Family First Home Companions. Serving all of Long Island. Call today: (631) 319-3961
Sources:
http://www.mayoclinic.org/diseases-conditions/hip-fracture/basics/complications/con-20021033
https://www.cdc.gov/homeandrecreationalsafety/falls/adultfalls.html
https://www.cdc.gov/homeandrecreationalsafety/falls/adulthipfx.html
Latest posts by Jennifer Benjamin
(see all)