How to Help an Elderly Loved One Who Is Socially Isolated
Elder Care in Smithtown NY
Isolation is common among the elderly for many reasons.  Medical conditions may prevent them from driving a car or leaving the house and, if they have lost a spouse, they be less apt to go out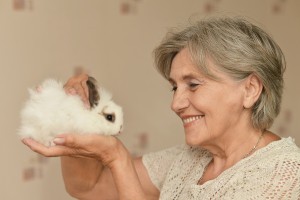 and do social activities.  In addition, without having a job to go to each day, many seniors feel less connected to peers than they used to be.  However, social isolation can have harmful effects on the health of the elderly.  Isolation and loneliness can lead to depression, anxiety, hopelessness and even a lack of personal care or care for one's own health.  As a family caregiver, it can be painful to see your elderly loved ones suffer from isolation, as your desire is that they continue to live an enriching and happy life even as they age.  The good news is that there are many things family caregivers can do to help their elderly loved ones.  Listed below are a few ideas:
Offer to Drive
In many instances, elderly adults live in isolation due to their lack of transportation.  If you can, offer to drive your elderly loved one to places such as a fitness center, the mall for walking, a restaurant to meet up with friends, etc.  If you do not have the time to dedicate to providing them with regular transportation, see if you can get help from a home care agency.  Some home care aides are able to help with transportation and even running errands.
Consider a Pet
Pet ownership can help your elderly loved one combat loneliness and feelings of isolation.  Pets such as dogs, cats, rabbits, birds, and even guinea pigs can provide your loved one with companionship and something to care for, which can boost self-esteem.  If your loved one is unable to care for a pet, contact your local animal shelter to see if they have a pet therapy program so that your loved one can visit animals without committing to their care.
Encourage Social Activities
If your elderly loved one is reluctant to participate in social activities, it is up to you to be encouraging.  Help them to find groups or activities that they might enjoy and then go along with them if it would make them more comfortable.  Some great social activities for elderly adults include fitness classes for seniors, support groups, going to a place of worship, doing volunteer work, or joining a book club.
If you or an aging loved one are considering in-home elder care in Smithtown, NY, please contact the caring staff at Family First Home Companions. Serving all of Long Island. Call today: (631) 319-3961
Latest posts by Jennifer Benjamin
(see all)