How Can You Make Eating and Meal Time Easier for Your Elderly Loved One?
Home Care in Bayside NY
Eating can be complicated for your elderly loved one. If it's become a big problem for her or for you, it's time to look at how to make meal time and eating easier for everyone involved.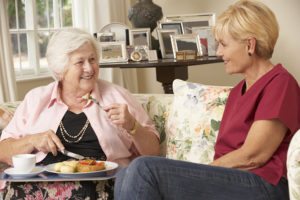 If Utensils Are a Problem for Your Loved One
Sometimes utensils can be a problem, particularly if your loved one has arthritis or other issues that make grasping and holding difficult. Finding adaptive utensils that your loved one can use more easily is one answer. You may also be giving your loved one too many utensils. This can make meal times awkward if your loved one starts to feel that she should be using all of the items you're making available. Look for plates, cups, bowls, and silverware that make eating easier for your loved one rather than more difficult.
For Loved Ones with Trouble Chewing or Swallowing
If your loved one has trouble chewing or swallowing, meal time can actually be painful for her. Rule out physical problems that can be solved for your loved one first, of course. After that, you may need to make some adjustments to how you help your loved one eat. Providing plenty of water during meals can help your loved one to swallow more easily. Gravies and sauces can also help to make food easier to swallow. Your loved one may also simply need more time to chew and swallow than she used to, so leave plenty of time for meals. If she feels too rushed, your loved one may not want to eat much at all.
If Your Loved One Isn't Eating Enough or Is Eating Too Much
Always rule out physical issues with over or under eating when it comes to your loved one. Once you have that out of the way you can start to look at what your loved one is eating and how often. Your loved one may need more frequent meals that are smaller throughout the day in order to eat just the right amount of food.
Take a look also at whether she tends to go for foods with empty calories or ones that are higher in nutritional value. You may need to mix in healthy foods with less healthy options in order to help her continue to eat enough. If your loved one simply doesn't like how you cook, try asking other family members, friends, or neighbors to contribute some dishes.
You can also work with your loved one's doctors and home care providers to find more individualized solutions for her particular situation.
If you or an aging loved one are considering

home care in Bayside, NY

, please contact the caring staff at Family First Home Companions. Serving all of Long Island. Call today: (631) 319-3961
Latest posts by Jennifer Benjamin
(see all)