Elder Care Tips: Steps to Take Before Discharge to Reduce Chances of Hospital Readmission
Elder Care in Huntington NY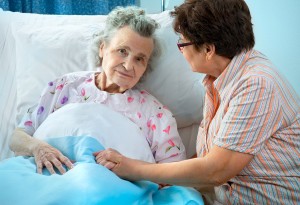 While it may not be something that you want to think about, if you are like many family caregivers you will encounter a situation that requires your aging parent to visit the hospital at some point during your elder care journey with her. This can be quite the upheaval in your routine, and many caregivers like to stop thinking about the situation and put it behind them as soon as their loved one is discharged. This, however, should not be the case. For a large percentage of elderly adults, a visit to the hospital is just the start of a cycle that could end up making a dramatic negative impact on their overall health and wellbeing, and even increase their risk of mortality. The culprit behind these issues is hospital readmission.
Hospital readmission is one of the greatest risks that elderly adults face, but it is also one of the most common and one of the most largely overlooked. Many people do not even realize that it is a problem. Those who end up in this cycle of leaving the hospital and returning within 30 days, however, are at much greater risk of suffering an infection or serious illness, are more prone to delirium, and are more likely to experience emotional effects that combine with other issues to diminish quality of life. These readmissions also put a strain on the healthcare community, straining the financial resources of the hospital or medical treatment center and taking away time, energy, and attention from those who are I serious need of care.
While there are some situations in which a readmission to the hospital is necessary for the health and wellbeing of the senior due to negative reactions to treatments or lack of response to medication, there are many more times when the readmission is due simply to not following instructions properly or for emotional reasons. Reducing the chances of needing to head back to the hospital after discharge starts before discharge.
Use these tips to help you reduce the chances of hospital readmission for your loved one:
Ask any questions that you might have about the diagnosis, treatments, medications, and care guidelines so that you can get all of the information that you need to properly care for your parent after discharge.
Discuss the information with your parent and make sure that she understands it thoroughly before you leave so that you can ask any further questions that are necessary.
Make sure that you talk to your parent about the potential dangers associated with going to the hospital and discourage her from automatically thinking that she needs to go back, or from calling an ambulance if there is not a real and present emergency.
Schedule an appointment for a follow-up with a doctor or specialist to check on her after discharge. Just knowing that there is another appointment already made can help her to feel more confident and reduce the chances that she will panic about her symptoms or desire the attention of going to the hospital again.
If you or an aging loved one are considering in-home elder care in Huntington NY, please contact the caring staff at Family First Home Companions. Serving all of Long Island. Call today: (631) 319-3961
Source:
http://www.beckershospitalreview.com/quality/20-statistics-on-hospital-readmissions.html
Latest posts by Jennifer Benjamin
(see all)