Are You a Caregiver for an Elderly Parent?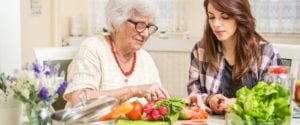 Caregiver in Bay Shore, NY: Is Your Plate Running Over?An estimated 44 million Americans provide care to someone 50 or older and more than half of them are women.  A typical family caregiver is a 46 year old female, has a full time job, kids in school, and spends an average of 20 or more hours per week providing unpaid care to an elderly loved one.  Sound familiar?
Family caregivers spend most of their caregiving time doing the things that are part of a loved one's daily living activities; cooking, cleaning, shopping, and providing transportation.  They also monitor their loved one's health and adherence to medication schedules, diet, finances (if the person has lost capacity), and household upkeep.  These activities are typically done in the evening after work or early in the morning before work.
How do these women endure juggling all these things for a loved one while managing a career and school age children?  The answer is barely in most cases.  Family caregivers experience physical ailments including chronic pain and weakened immune systems, higher levels of stress, emotional problems and depression.  They also face financial hardships because they are supporting an elderly loved one financially, have losses in income and benefits when their caregiving roles cause them to cut back hours at work, as well as missed opportunities for career advancement.  They also experience marital problems and discord in their own family lives more so than women who are non-caregivers.
Latest posts by Jennifer Benjamin
(see all)