May 15th is Chocolate Chip Cookie Day
Home Care in Bay Shore NY
Chocolate chip cookies are an American favorite and a treat that no cookie party is complete without.  On May 15th, Chocolate Chip Cookie Day, why not spend some time with your loved one and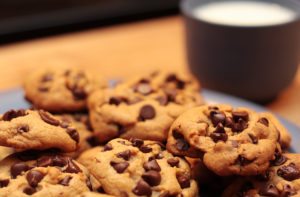 make a batch of your favorite chocolate chip cookies?  Or, if you both are in the mood for something new and different, give some of these chocolate chip cookie ideas a try:
Giant Chocolate Chip Cookie
You've probably seen giant chocolate chip cookie pies at bakeries decorated with icing.  What you may not know, however, is that these confections are very simple to replicate at home.  Simply make follow your favorite chocolate chip cookie and press the dough into a prepared pie pan.  The baking time may need to be adjusted, as the cookie will be ready when the center is fully baked.  If using a small pie pan, you may need to cut your dough recipe in half.  When it is done, decorate it with colored icing, if desired.  These giant cookies are a great substitute for a birthday cake and they make a great dessert to bring to a potluck or party.
Oatmeal Chocolate Chip Cookies
Oatmeal raisin cookies are a tasty treat, but on Chocolate Chip Cookie Day you can't skip the chocolate!  Modify your oatmeal raisin cookie recipe to make oatmeal chocolate chip cookies by omitting the cinnamon and replacing the raisins with chocolate chips.
Double Chocolate Cookies
One way to change up your typical chocolate chip cookie recipe is to make a chocolate cookie and stir in white chocolate chips.  These cookies are as pretty as they are delicious!  Simply replace some of the flour with unsweetened cocoa powder and use white chocolate chips in place of regular ones.
Healthy Chocolate Chip Cookie Modification
For caregivers of elderly loved ones who are trying to eat a healthy diet, chocolate chip cookies do not have to be off the table.  Try some of these modifications to fit your loved one's special diet.
To reduce saturated fat, replace the butter with tahini (sesame seed spread).  Other ways to cut down on the fat and calories of butter include replacing half of the butter with applesauce or half of the butter with greek yogurt.
To add fiber, use whole wheat flour instead of white or add ground quick oats.
To cut down on sugar, replace some of the chocolate chips with chopped walnuts, peanuts, or almonds (or all three).
If you or an aging loved one are considering

home care in Bay Shore, NY

, please contact the caring staff at Family First Home Companions. Serving all of Long Island. Call today: (631) 319-3961
Latest posts by Jennifer Benjamin
(see all)